March 20 - 23: Yangshou (Part I)
---
Next we were off to Yangshou, a small town about an hour and a half by bus from Guilin. Yangshou is well-known to for its westernization with a plethora of restauarants serving western food and showing Hollywood movies at night and a number of internet cafes. There was a huge concentration of foreigners within the few streets that catered to tourists, but once outside of these few streets, there wasn't a tourist to be seen.
| | |
| --- | --- |
| | Our hotel room at the Fawlty Towers. What a bargain for less than $8 a night. |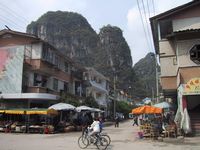 Imagine living in a place with such beautiful scenery that millions of people from around the world come to see it.
| | |
| --- | --- |
| | One of the hundreds of vendors selling their goods in Yangshou. |
| | |
| --- | --- |
| | On our way to a small town nearby called Fuli. |
| | |
| --- | --- |
| | School's out for the day and the kids are walking home from school. |
| | |
| --- | --- |
| | This woman was washing her crop down by the water before bringing it to market. |
On the road between Yangshou and Fuli. More beautiful farmland.

The next morning, we decided to hire a guide to take us on a bike ride through the backroads to Moon Hill. For breakfast, we stopped at a place called the Riverside Cafe. Bryan had a scrumptious breakfa st of oatmeal with bananas. He had the same breakfast the next two mornings. It's become a favorite of his. Nancy had some fresh squeezed tangerine juice and toast. Delicious. She had about another 5 glasses of juice while she was in Yangshou.
Here we go on our bicycle ride with our guide Li Jing Feng to Moon Hill (yue liang shan)
| | |
| --- | --- |
| | We arrive at the country cottage, the home of our tour guide. |
While she prepared lunch, we went for a tour of the Black Buddha Caves (hei fo dong). This cave was unlike other that we had been in as it was nearly totally undeveloped. All there was for lighting was a few light bulbs strung along the way in some areas and the guide had a flashlight.
| | |
| --- | --- |
| | This is the stalactite that the cave got its name from. It supposedly looks like a Buddhist monk praying. Do you see it? |
At one point we had to climb down ropes through narrow crevices with steep precipices on all sides. It was a bit unnerving, although you wouldn't know looking at these photos. First Nancy pointed the camera down at Bryan and took a shot, then Bryan pointed the camera up and took a shot of her. Right in front of Bryan is a drop of about 25 feet.
| | |
| --- | --- |
| | Our cave guide. |
Next we had to remove our shoes and wade through knee-deep water through twisty passageways. Our guide didn't follow us for this part of the tour, but suggested that we follow the light. The water was cold and dark, and we never knew what was around the next corner.
| | |
| --- | --- |
| | There's a little waterfall here. This is why we waded through the water. |
Back to: Guilin