Photos 01.15.2001 - 01.30.2001
These are all the photos which appear elsewhere without a caption or which didn't fit anywhere else.
---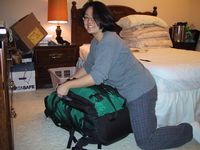 Nancy finishes packing the last bag ...
---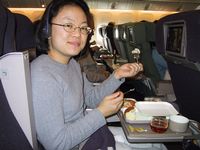 Nancy gives the food of All Nippon Air two thumbs up!
---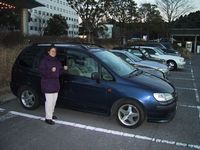 Nancy thought that this little car in the hotel parking lot in Japan was very cute ... she wants one!
---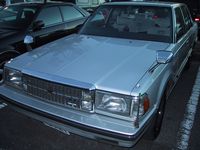 Some Japanese cars have the side view mirrors on the hood, oddly enough ...
---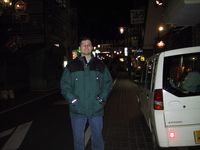 Bryan stands in one of the many small streets in the town of Narita, Japan, where we had our layover on the way to Beijing.
---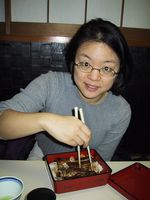 Yum! Unagi (eel) at a real Japanese restaurant!
---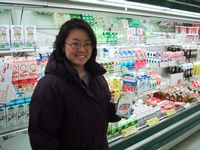 Nancy with a carton of Love in a Narita supermarket.
---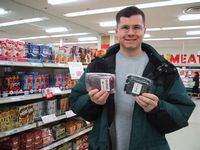 Japanese pickles are expensive in the U.S. but very cheap in Japan, so Bryan bought two packages ...
---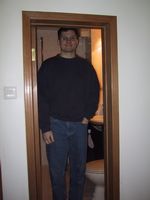 Bryan looks like a giant when he stands in the bathroom of our Beijing apartment. Nancy jokes that Bryan gets a little dumber every time he hits his head on the bathroom doorway, which is, unfortunately, often.
---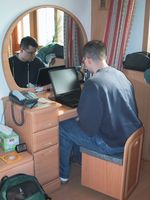 Nerd at work.
---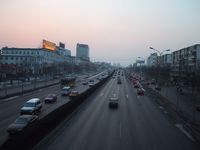 This is Bei San Huan Lu, the major road closest to our apartment. Its name means "North Third Ring Road" in English.
---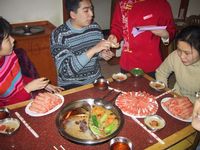 Gao Jie, her husband, and Gao Ke took us out to Mongolian Hot Pot. Yum!
---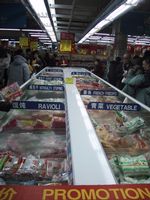 This is an example of how confusing the Chinese English in supermarkets can be. In the frozen foods section we have:
Chinese Bread (probably not actual bread)
Rice Glue Ball (???)
Sweet Stuiling (???)
Withsaltv Stuffing (Probably not stuffing, maybe something salty?)
French Friedpo (Could it be French Fries? Probably not)
Ravioli (probably a misnomer, could be dumplings)
Vegetable (now this, we can understand)
---
Bryan Ischo and Nancy Lau - 02.03.2001
Back to: Tiananmen Square and the Forbidden Palace