April 28 - Parks and Forest
We spent the day with one of our Beijing friends, Forest. We met Forest in the morning and then we all decided to rent a cab and travel around the outskirts of Beijing. We started at the Ming Tombs.
| | | |
| --- | --- | --- |
| | | Here we are at the first Ming Tomb stop. There were many different tombs at which we stopped during the morning. Check out the beautiful willow trees lining the walkway. |
The walkway with the numerous stone animals and warriors. Here's a nice looking camel with some students happily enjoying their lunch.

Some beautiful peony flowers in the gardens at the Ming tombs.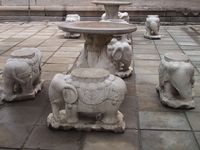 Here are some tables and chairs at a snack stand at the Ming Tombs. They had many tables like this all over the various Ming tomb sites. Nancy thought they were just beautiful! How nice it would be to have a garden table and chairs like this. Maybe the seats could be pigs.
| | | |
| --- | --- | --- |
| Bryan and Forest hanging out another one of the Ming Tombs. The royalty sure knew how to build beautiful burial grounds. | | |
| | | |
| --- | --- | --- |
| | | Here we are at the Shisanling Reservoir about 40 km from Beijing's center. |
| | |
| --- | --- |
| Here are Nancy and Forest inside the Juilong Amusement Park at the Shisanling reservoir. Those are ornamental peach blossoms behind them. | |
| | | | |
| --- | --- | --- | --- |
| | | | Nancy loves cute little kids! |
| | |
| --- | --- |
| Driving behind a carload full of piggies! Nancy was so excited to see so many pigs. Nancy is pretty weird. She was cooing about how cute they were and then she mentioned something about a pork dish she likes to eat. | |
We then headed off for the Beijing botanical gardens, next to the Fragrant Hills Park (Xiang Shan). The grounds of the botanical gardens were amazing. Since it was quite late, we didn't go into the plant conservatory, but we did have time to walk around the grounds and takes lots of pictures of flowers. The grounds were so phenomenal that Nancy went back to the garden five days later with her friend. She didn't want to miss the peak blooming season of the peony flowers and various other flowers.
There were acres filled with these ornamental peach trees. They aren't fragrant, but they are very beautiful and bright. Some flowers are very light pink while others are a deep pink. There are also several varities of flowers. Some have only five petals and others have many petals. Some of the trees even produce a variety of colors within one tree.
| | | |
| --- | --- | --- |
| Here's the overview of the Japanese bonsai garden. We didn't have time to go into this beautiful part of the park. | | |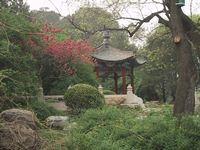 A beautiful gazebo area in the park.
| | | |
| --- | --- | --- |
| | These brilliant yellow flowers are a variety of rose bush. Unfortunately, we don't know the exact name of the flower as the name translated from Chinese is merely translated to rose. They are all over the garden as well. | |
These are peonies (mu dan hua). The garden had an entire area of peonies, also know as the king of flowers in China due to its large size and beautiful colors. There are reportedly over 300 varieties of peony plants in the botanical garden, maybe we remembered that wrong. That seems like a lot of varieties. There were however hundreds of bushes, so many in fact that at some points in the peony garden you could not see the end of the peony plants.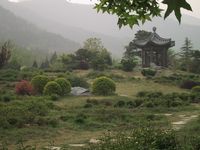 Another beautiful gazebo area. The gardens are incredible!
| | | |
| --- | --- | --- |
| Ah...the magnificent smelling wisteria flower. Frances, Nancy's older sister, and Nancy used to spend hours trying to figure out how to draw these flowers in their Chinese painting class. Actually, Frances had quite an easy time with them. The flowers that she drew were quite lifelike and beautiful. But Nancy never did master the drawing of flowers. She rather liked to draw fat animals, to the dismay of her painting instructor. | | |
| | | |
| --- | --- | --- |
| | | Nancy found this variety of orchid (lan hua) very beautiful. It grew in clusters all over the garden. She recalls also having tried to draw this flower in her Chinese painting class. She had always wondered why she was supposed to draw all of these flowers that she'd never seen before. Now, she knows that these flowers are famous in China, thus Chinese painters try to capture their beauty on rice paper. |
We happened upon an entire area filled with the wonderful smelling lilac (ding xiang) plants! You can't even imagine how fragrant it was. Nancy would've stayed for a picture, but as the entire area was filled with bees and she has never been stung and doesn't know if she's allergic to them, she high-tailed it out of there.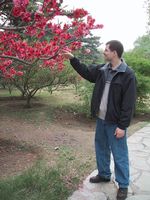 Hmm...interesting...'I think if you tap the flowers, the petals fall off...'
Wow! And if you really give the tree a jiggle...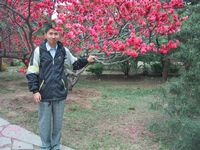 Forest wants to give it a try! We think he's a little timid with the tree.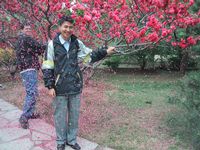 So, Bryan gives him a hand!