October 8 - 10: Sasayama
---
We had planned a few days in the out-of-the-way city of Sasayama, which is where we headed next. Nancy had, in researching Japanese agriculture, discovered that a fall harvest festival was to be held during our stay in Japan, and we were excited to have the opportunity to attend the festival and also to get a look at a Japanese town that is well out of the way of the normal tourist trade.
A three hour train ride from Kanazawa took us down from the mountains and into the valley in which Sasayama sits comfortably nestled. At the train platform we inquired about transportation to our pension and were told that the best way was by cab. So we embarked upon our first and one of only two cab rides in Japan.
| | |
| --- | --- |
| This photo shows the taxi meter on its steady progression upwards. The 15 minute cab ride of about 8 kilometers totalled around $25 US, making it easily the most expensive form of transportation we had encountered in Japan. Ouch! It was, however, the cleanest cab we had ever been in and the driver was extremely courteous and professional, cap and gloves and all. | |
Our reservations were made for us with the help of a Japanese friend in Beijing; the pension we had originally planned to stay at turned out to be undergoing renovations and without the help of Keiko we never would have been able to make reservations in this all-Japanese-speaking town ourselves. The pension was on the very outskirts of town, situated on a small woodsy hill, overlooking picturesque farming fields. The couple who owned the pension were just darling and so nice. Fortunately, the man spoke some English since he and his wife had lived in Australia for a year.
| | | |
| --- | --- | --- |
| | | Here are some views from the pension. |
| | |
| --- | --- |
| This is the pension itself. | |
Here's Nancy in the window of our small but clean and comfortable room.

And this is the smallest bathroom you've ever seen - even smaller than the one in our apartment in Manhattan! So efficient! Everything you need in the space of a closet.
| | | |
| --- | --- | --- |
| | | We discovered that there were chestnut trees around the pension - we had never seen them in person before. Notice the chestnut husks on the ground. Each spiny brown husk holds two chestnuts. |
As we were taking pictures of the chestnut trees, the owner/chef of the pension came up and asked if we liked chestnuts. Upon hearing that we did, he promised to add chestnuts to the evening's meal. Then, he set off in his chef's outfit to have a word with the neighbors.
Here's our chef making his way back from the farmhouse to the pension, in full chef uniform.
| | |
| --- | --- |
| This is our pension as viewed from one of the surrounding unique black soybean fields. | |
| | |
| --- | --- |
| | It was getting to be late in the afternoon and the sun was starting to descend towards the horizon. |
| | |
| --- | --- |
| Here's a persimmon tree growing in the area. | |
| | |
| --- | --- |
| | And here's Bryan beneath the foliage by the side of the road. A Japanese farmer strode by a few minutes later but seemed unphased by the presence of a westerner here where probably few westerners have ever been. |
More photos from around the village.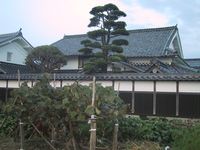 This house had a particulary well-manicured Japanese garden and was also a beautiful example of Japanese home design.
All of that walking around the village made us hungry so we hurried back to the pension for dinner. Our chef prepared an excellent western-style set-course menu.
We started with venison for an appetizer, then had chestnut soup, which was followed by a wonderful seafood course and to top it off had a fantastic Japanese beef for the main course. Dessert was a creamy, scrumptious tidbit with chestnut cream on the side. After dinner our host drove us to a health club nearby which featured Japanese baths. We relaxed in the baths for a few hours before returning to the hotel for the evening. Sorry, no photos!
| | |
| --- | --- |
| Nothing to do but relax with some characteristically bizarre Japanese television before dozing off to sleep. | |
The next day our host drove us into town and dropped us off at a bicycle rental shop. We rented two bicycles and pedaled away to explore the town.
Our first discovery was the castle of Sasayama, which has some historical significance as the one-time stronghold of an important Samurai in this part of Japan. Entrance was free and we strolled around the grounds on top of the castle.
The castle overlooked several athletic fields and because this was a Japanese holiday - national Sports Day - many school children were out playing various sports such as tennis and softball.
| | |
| --- | --- |
| | Here's Nancy on the edge of the castle overlooking an athletic field with mountains in the distance. Sasayama was completely surrounded by mountains on all sides. |

We picked up a Japanese cloning device in Kanazawa and we decided that this would be the perfect place to try it out. Which one is the real Nancy?
| | |
| --- | --- |
| Bryan decided that one Nancy was more than enough for him so he decided to keep just this one. | |
| | | |
| --- | --- | --- |
| | | Here's Nancy cruising around some of the peaceful neighborhoods of Sasayama. |
We happened upon a small history museum. Check out the cute clogs on Bryan. Nancy wishes she could get him to wear these in the U.S.
| | |
| --- | --- |
| We were looking for a famous Japanese pottery store when we saw these temple steps framed with traditional arches. | |
| | |
| --- | --- |
| | We had just about given up on finding the pottery store - our map was virtually indecipherable, being written completely in Japanese, and we had no idea where we were - when Nancy recognized the building as we passed it. Too bad all of the handicrafts inside were much more expensive than we could afford. |
| | |
| --- | --- |
| Making our way back to the center of town, we crossed the castle moat. | |
| | |
| --- | --- |
| | Our first stop in town was this small shop at which a man was making fresh muffin-sized cakes filled with sweet red bean paste. They were delicious! Bryan had one, and then while we were walking away, he decided that he'd better try another one to test the quality... |
| | |
| --- | --- |
| Bryan spotted a small arcade and Nancy couldn't stop him from going in for a few rounds of his favorite fighting game, Bakumatsu Romano II (The Last Blade 2). | |
Meanwhile, Nancy explored the town a little bit as a harvest festival parade passed by.
| | | |
| --- | --- | --- |
| | | The cooks at a booth were making a very interesting dish consisting of balls of chopped seafood and vegetables in a light crepe-like batter fried in tins which were continuously attended by one man with a pick who flipped the balls around so that they would cook evenly. We were enticed and joined the long line waiting to buy a dish. |
| | |
| --- | --- |
| | The central town square was packed with people visiting the food vendor booths and watching the traditional music performances being held on stage. |
In one area very, very long lines of people waited to get a free portion of freshly-made mochi (pounded rice balls). This seemed to be a very popular tradition and we supposed that the mochi was eaten for good luck, and everyone seemed to want some.
| | | |
| --- | --- | --- |
| | | We did join the queue of people waiting for freshly-roasted chestnuts. A very complicated process was employed to roast the nuts, utilizing a pair of special chestnut-roasting machines and a lot of manual labor by the woman operating the equipment and scoring the chestnuts for roasting. We waited for about 45 minutes in line for our $10 bag of chestnuts. |
| | |
| --- | --- |
| Here's Nancy enjoying the fruits of our patience. Yummy! | |
More scenes from around and about the festival. On the left are these ladies making soybean mochi. There are chestnuts in husk in the middle. On the right are little baskets containing a tangerine, chestnuts and a small mashitake mushroom. While we were in Sasayama, they were having their festival to celebrate the harvest of chestnuts, mashitake mushrooms (one of the most prized mushrooms of Japan), and black soybeans, a delicious soybean unique to the region.
That evening our host took us to a local wild boar restaurant. The boar was boiled in a pot at the table along with vegetables, mushrooms, and 2 heaping plates of udon noodles. It was very similar to Chinese huo guo (hot pot), but the base in which to cook the food was miso soup. It was fantastic!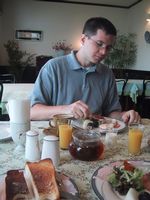 The next day we enjoyed a light breakfast at the hotel before our host took us into town and dropped us off at the bus station, where we took a bus to the train station and on to our next destination. Do you see the toast? It was delicious! We really enjoyed the small-town feel of Sasayama, and thought it was a great way to spend a few days seeing the much-less-travelled side of Japan. Our host told us that we were the first foreigners he had seen in town for about five years, and we'll probably be the last for years to come.
Back to: Japan, October 6 - 8: Kanazawa
On to: Japan, October 10 - 12: Himenji and Kyoto